Case Studies
Background
Trillium Townhomes is the second zero energy neighborhood at Rose Villa Senior Living, further emphasizing the community's commitment to sustainability and eco-friendly design. Trillium consists of six industrial-inspired multifamily row homes — all sustainably designed for independent living.
Challenge
COVID-19 presented many challenges, including supply chain shortages at the start of construction of Trillium Townhomes. Yet, as a design build firm, we are well-equipped to address unforeseen problems by working collaboratively with our clients and trade partners to overcome them. We had a significant hurdle to overcome with a shortage of engineered lumber. Due to our Unified Design Build Process, we collaborated internally and with our engineering partner to re-design aspects of the building to utilize readily available products. We did this in less than two weeks, significantly reducing the schedule impact to what otherwise would have taken 3-4 times longer.
"The pandemic construction environment put a spotlight on the superiority of Green Hammer's design build process for us," says Vassar Byrd, Rose Villa CEO. "Green Hammer was able to look ahead and forecast coming supply shortages and other problems and immediately take steps to create alternate paths. They were invested in our outcomes to a much higher degree than with a traditional arrangement. They were extremely focused on ensuring nothing in the short term would impact our long-term outcome – in terms of quality, schedule, and cost. I would build anything I could with them."
Approach
Rose Villa is a continuing care retirement community providing independent living supported by layers of healthcare all on one campus. Rose Villa provides people with many options, including the ability to live out their environmental values as they age in place. In 2018-19, Rose Villa partnered with our firm to design build The Oaks, a pocket neighborhood that includes 12 energy-efficient Craftsman-style homes designed to meet all its energy needs with a 74-kW solar array. The Oaks was the first zero energy community in Portland serving seniors. All units sold before construction was complete, showing strong demand for eco-friendly housing in the senior living market.
The success of The Oaks led Rose Villa to partner with us on a second zero energy community on its 22-acre campus. Trillium Townhomes includes six zero energy modern row homes inspired by the design aesthetic of the industrial buildings and homes in Portland's Pearl District. We designed Trillium Townhomes to provide optimal flexibility for aging in place. Each 1,400-square-foot residence features double-height, light-filled great rooms adjacent to kitchen and dining spaces. The main bedroom, bath, kitchen, and living areas are all on the main floor, and homes feature no-step entrances, wide hallways, and wide doorways. The upstairs loft includes a bathroom and auxiliary space for an office, art or yoga studio, or second bedroom.
"We've always been interested in sustainability. So when the opportunity came along to live in a net zero home, that was quite exciting," Bob and Corinna, owners of one of the Trillium Townhomes. "This little house is quiet and comfortable with this advanced heating and air conditioning systems. And the temperature is perfect all the time."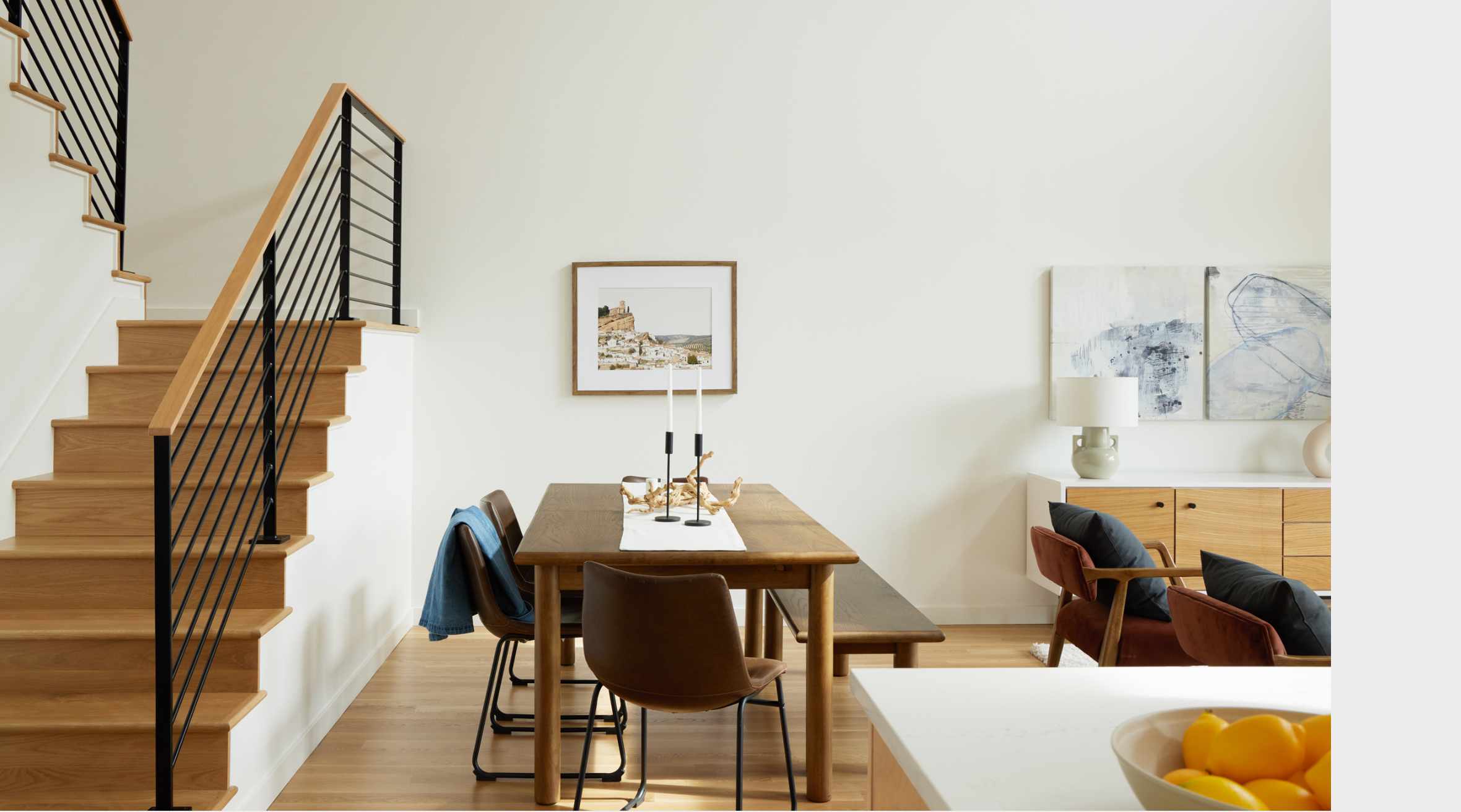 Community and Private Outdoor Spaces
Our approach to the overall design and siting of the project was in and of itself an innovative and collaborative process. The Rose Villa campus is designed to look and feel like a small city, providing a variety of residences, pocket communities, and outdoor gathering spaces. Trillium Townhomes, along with the neighboring Rose Villa residences, Schroeder Lofts and Madrona Grove, create a unique courtyard amenity for the entire community to enjoy.
The courtyard was a collaborative design process with Rose Villa, Scott Edwards Architects, Gawron Turgeon Architect, and many others. This allowed the group to co-create an attractive and welcoming space for residents to enjoy. If there is anything the pandemic taught us, it's the value of social interaction and community. Courtyard living fosters a strong sense of community and belonging, with its edible landscaping and accessible pathways providing a welcoming place to gather. Green Hammer staff volunteered time to build an expansive pergola in the courtyard. It provides a spacious and shaded area where residents can get together. Each residence at Trillium Townhomes has a balcony and a porch that creates privacy when people feel less social yet still allows them to connect with the outdoors.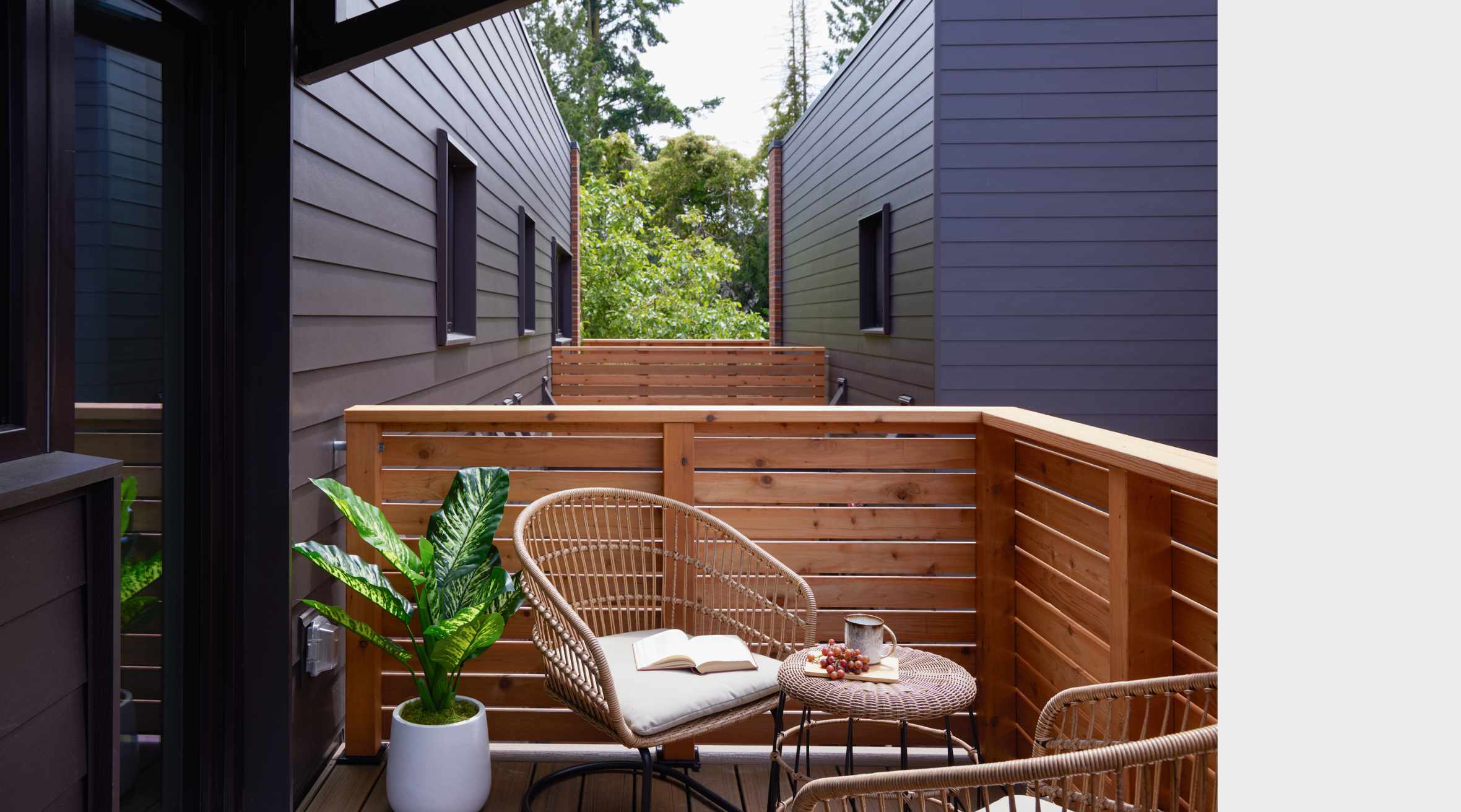 Results
Despite the COVID-19 pandemic and unexpected supply chain challenges, we completed Trillium Townhomes on time and on budget. All units were sold prior to completion of construction. All six of the residences at Trillium Townhomes were certified Earth Advantage Platinumin in June 2022. We are now working with Rose Villa on a campus-wide rresiliency action plan (RAP). With input from staff and residents, the RAP will help ensure sufficient power, water, food, and supplies during emergencies such as a power outage, wildfire, or earthquake.
"There is a constant balance between making decisions aligned with our values and the reality of our budget," says Vassar Byrd, CEO of Rose Villa. "Green Hammer helped us understand the impact of every decision – the impact on people's health and the environment as well as on our bottom line. They equipped us to make good decisions on all kinds of things that have an energy impact, and we appreciate knowing much more about how and where materials come from. Green Hammer's team of designers and construction experts are passionate about creating buildings that inspire change, create long-term value for our residents, and have a positive impact. Plus, they are a lot of fun!"
Awards and Recognition
Trillium Townhomes was named 2022 Zero Energy Ready Project of the Year by Earth Advantage. Both The Oaks and Trillum Townhomes were featured on the 2022 Go Zero Tour.
Architect: Green Hammer
Interior Design: Green Hammer
Engineer: Grummel Engineers
Landscape Design: Shapiro Didway
Solar Installer: Synchro Solar
Earth Advantage: Platinum / Zero Energy Ready certification
< Previous Case Study
Next Case Study >