Great People. Great Outcomes.
With full support, great people working together create the greatest outcomes.
We create a supportive, safe and open environment to learn, share, innovate, imagine, improve and create amazing results. We are a talented team of green building professionals who support one another in achieving personal and team success. Our company values reflect our commitment to making choices that support our mission. As a certified B Corp, we must meet performance standards in four categories: Governance, Workers, Community and Environment. Learn how we performed on the B Corp Assessment.
Our Company Values


Conservation
We make choices that conserve natural, human and financial resources.
We reduce, reuse and repurpose first.

We place ourselves in jobs we love.

We save dollars to earn dollars.
Integrity
We trust in our work and in each other and choose to lead by example.
We practice empathy, fairness, and inclusion.
We take time to listen and understand.
We value each other's perspectives and differences.
We believe everyone brings good intentions.
We treat others as we want to be treated.
We know team success creates personal success.
Nurture
We know the health of the company depends on the health of all of us.
We place safety first.

We take care of each other.
We help each other improve.
We engage in activities that foster creativity.
We have fun together.
Prosperity
We build prosperity for people and the planet with our profits and growth.
We take meaningful action to improve justice, equity and inclusion in our company and our work.
We build strength through diversity.
We pursue our ambitions.
We promote innovation.
We inspire positive change by sharing our individual, team and company successes.
We invest earnings in social and environmental justice.
Work at Green Hammer
Go here to view current career opportunities with our design build team.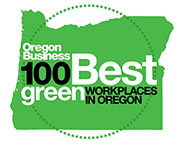 We have been recognized for many years running as one of Oregon's Best Green Workplaces, an awards program of Oregon Business magazine. The 100 Best Green Workplaces are determined by an anonymous employee survey and an independent assessment of the employers' sustainability practices. Employees are asked about how the company is doing in 11 areas of sustainability, including rewards and recognition of employee efforts toward sustainability goals, waste reduction and energy and water conservation, efforts to use use non-toxic, natural materials, and efforts to incorporate sustainability ethics into the organization's services and products.