Case Studies
Background
We partnered with a young couple in Portland's Richmond neighborhood to design build a 1,757-square-foot home that uses little-to-no energy or water, minimizes waste, and provides a comfortable and healthy indoor environment as well as low-impact outdoor spaces.
"We felt it was our responsibility to put sustainability above other things when building our home," said the homeowners.
Challenge
When our clients reached out to us, they faced a tough decision: renovate an existing 1908 bungalow into a zero energy home or remove it to make way for a new custom home? After careful consideration, we recommended they rebuild due to poor natural light, inefficient design and toxic chemicals. We partnered with Lovett Deconstruction to recycle and reuse as much of the existing house as possible. It earned a Safe + Sustainable Site Certification from Earth Advantage for reducing material waste through deconstruction, salvaging material for reuse, and limiting the dispersal of hazardous material in the air, water, and soil.
Approach
We worked with our clients, a young couple interested in minimizing their environmental footprint, to create a custom home that is 'right-sized' for their lifestyle. This compact two-bedroom residence has a community-oriented front porch and simple south-facing gable roof, both a modern interpretation of the neighborhood context. Opening directly from the living room are two sliding doors leading to covered porches on both the front and back of the house. Thoughtful placement and triple-pane glass allow for natural lighting and cross ventilation while meeting energy efficiency goals and fostering an indoor-outdoor connection to nature.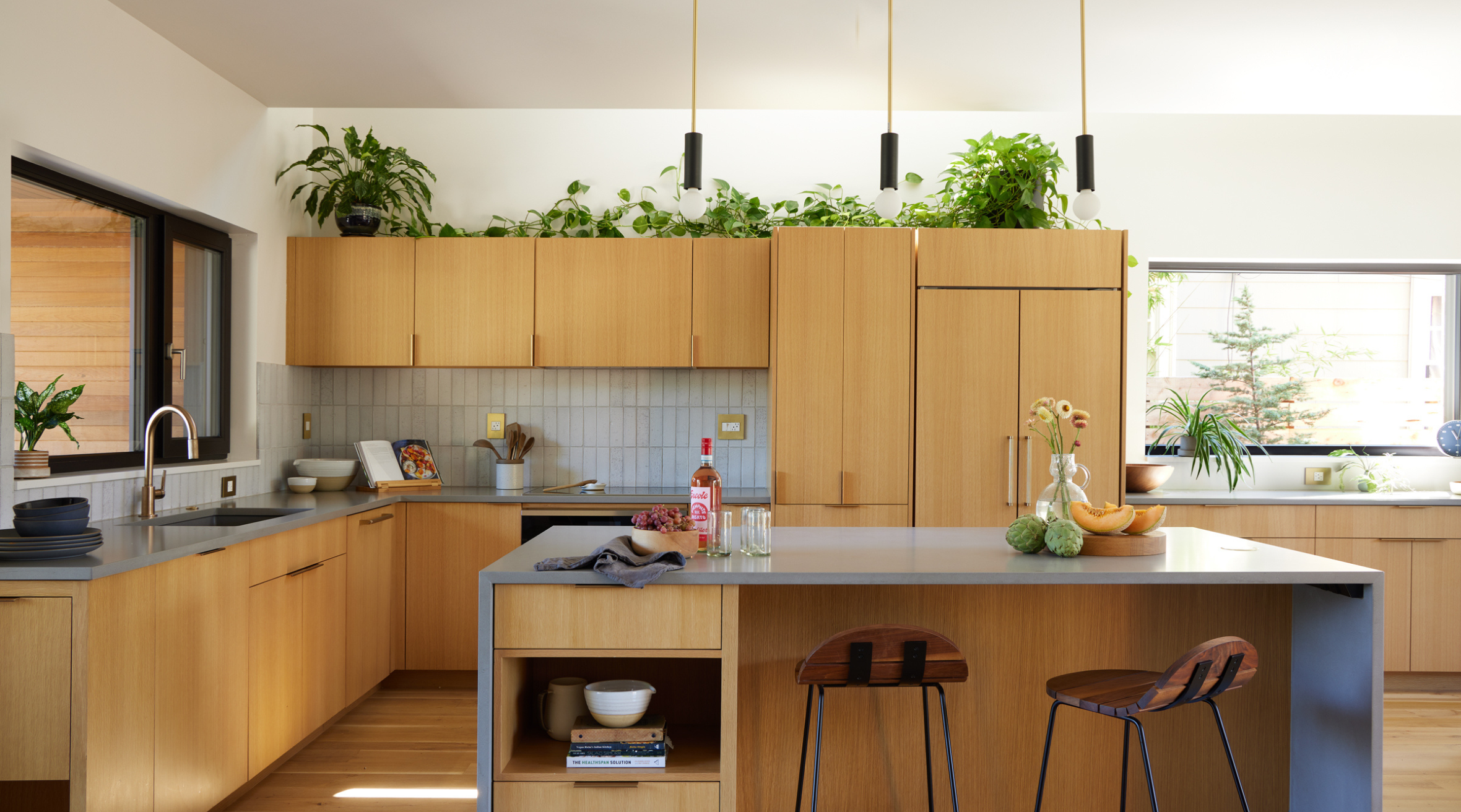 Energy and Water Independence
The all-electric home is designed to consume as little energy as possible and produce its own electricity from a 9.3-kilowatt solar array. We incorporated Passive House design principles, including an air-tight building enclosure, super-insulated envelope, no thermal bridged and triple-pane windows and doors. The home has LED light fixtures, ENERGY STAR appliances, and a high-efficiency mini-split heat pump.
An ultra-efficient heat recovery ventilation (HRV) system removes fine particulates and contaminants such as smoke, and delivers fresh, filtered air throughout the home. Adding to the house's comfort and the low energy consumption is a heat pump water heater that uses CO2 as the natural refrigerant. The heat pump water heater powers an in-floor radiant system on the lower level, domestic hot water for the home, and a soaking tub in the backyard.
A 9,000-gallon cistern is designed to meet 100% of home's annual potable water needs through rainwater harvesting, on-site water filtration, low-flow fixtures, and right-sized plumbing design. The landscape's drought-tolerant design significantly reduces the water needed for irrigation.
Our clients moved into their home in the summer of 2022. "There are so many benefits about living in this home," they said. "Green Hammer was awesome to work with because each individual is super talented and also passionate and also available all the time. The design build model works really well because you always have an architect in the room while you are making decisions."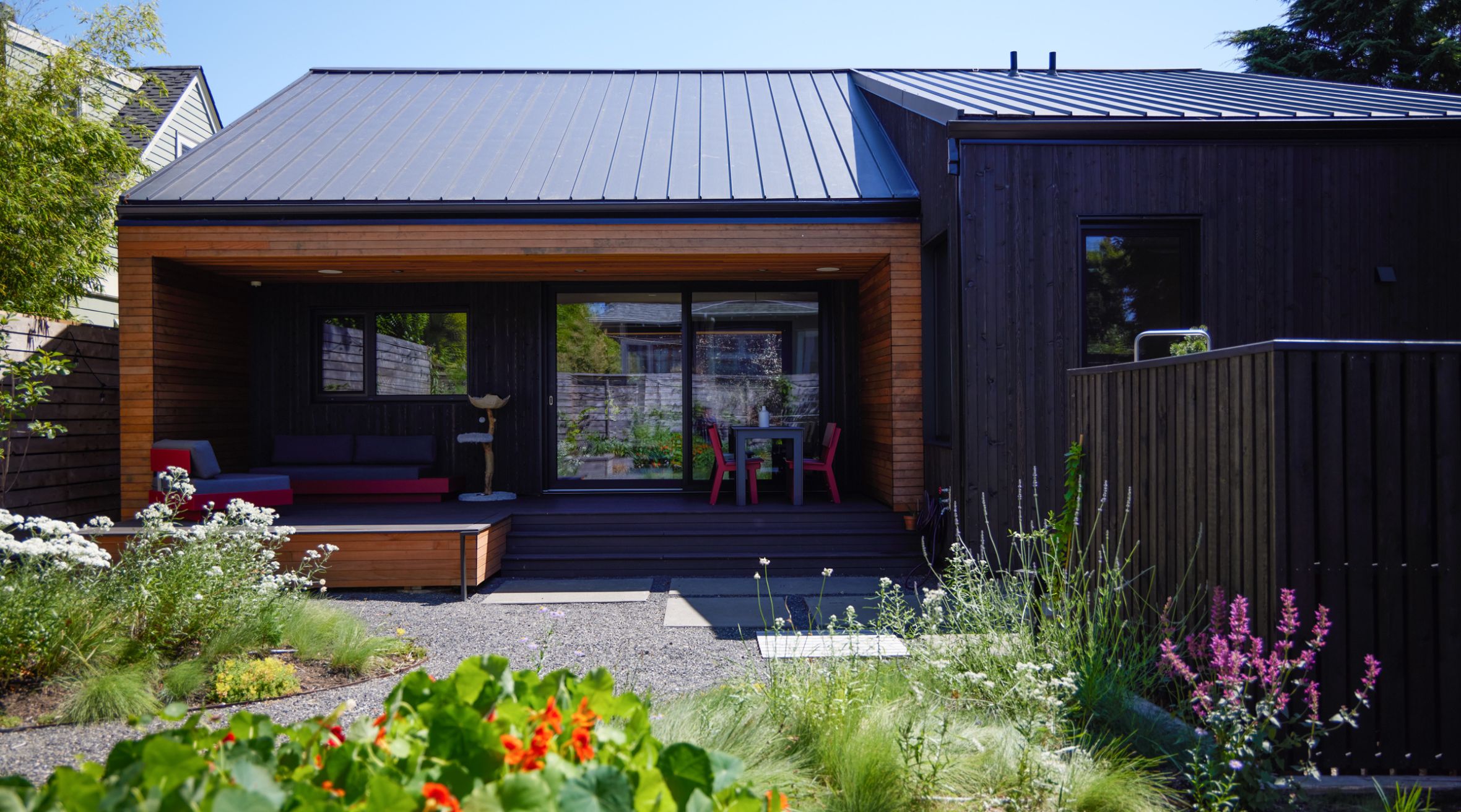 The Richmond Residence received Earth Advantage Platinum + Zero Energy certification and a Safe + Sustainable Site Certification from Earth Advantage.
Awards and Recognition
The Richmond Residence received the 2023 Home of the Year Award from Green Builder magazine. The home's small environmental footprint made this water- and energy-independent home a standout among the other applicants. The residence was also featured on the 2022 Go Zero Tour.
Architect: Green Hammer
Interior Design: Green Hammer
Engineer: Lauren Thomas Consulting
Solar Installer: Synchro Solar
< Previous Case Study
Next Case Study >