Case Studies
Tillamook Row
A Zero Energy Community
Tillamook Row, 16-unit zero energy community, represents the future of green building and urban housing. The pocket neighborhood located in Northeast Portland's Eliot neighborhood is meeting a growing demand for multi-generational housing. It was designed with accessibility, community connection, health and wellbeing, and environmental responsibility in mind.
Residents enjoy a wide range of shared amenities, including a common courtyard and garden space, shared bike parking and storage, and a 2,000-square-foot common house, which is open to residents as a place to share meals, exercise and host gatherings. The common house is equipped with a battery back-up system that can store power generated from its rooftop solar array. The battery back-up system coupled with a 3,600-gallon rainwater storage cistern allows Tillamook Row to remain resilient during a utility disruptions with some additional capacity to serve neighbors in need.
Colin McLean, of BCMC Tillamook, LLC, says he originally set out to build a small community of modern, energy-efficient homes for Portlanders looking to downsize and age in place. After meeting with Green Hammer, his vision for the project grew into something much bigger. The multifamily development includes a mix of unit types (from 1-bedroom, 750 square-foot to 4-bedroom, 1,320-square-foot) and ownership models (owner and rental units), promoting a diverse resident community.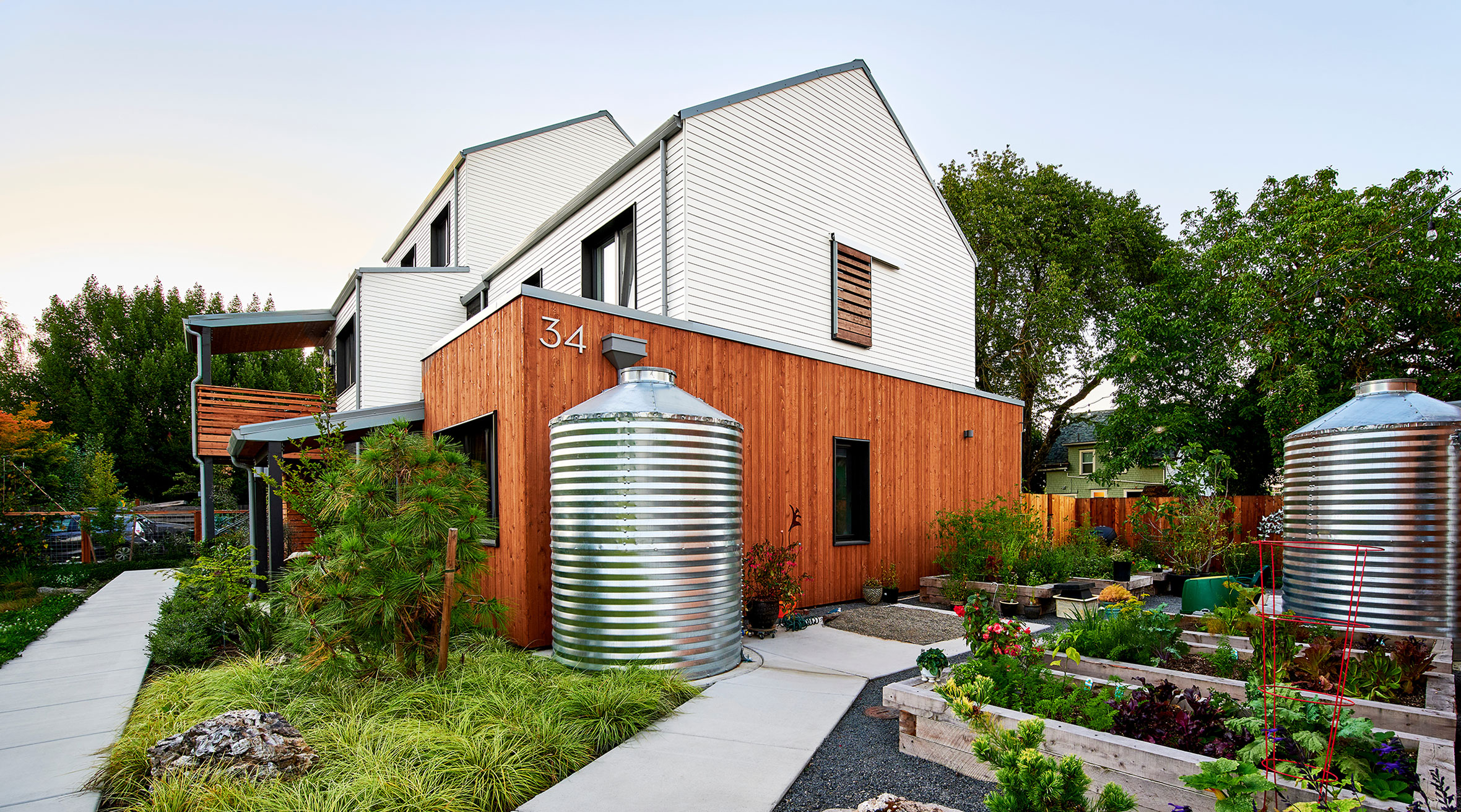 An all-electric development, Tillamook Row is an extremely energy-efficient project generating all of its energy needs over the course of a year with an on-site 82-kilowatt solar array. All of the buildings at Tillamook Row have a super-insulated exterior shell designed to reduce the building's heating and cooling loads by 80%. Additional features such as triple-pane windows, state-of-the-art technologies, and energy-efficient appliances and fixtures mean residents will have low-to-no energy costs.
However, it's always challenging to predict how people will use energy in their homes, especially in multifamily projects where people's lifestyles can vary greatly. Anticipating this, Green Hammer developed a manual for all residents of Tillamook Row, providing tips about how to operate windows, appliances and heating and cooling systems to help ensure electricity is used wisely.
A goal of all involved in bringing Tillamook Row to life was to inspire more sustainable development of this kind, as zero energy homes represented less than 2% of homes on the market when it was completed. The technologies and design solutions incorporated into Tillamook Row are available to all developers, designers and builders, yet are not commonly utilized. One of the frequently discussed challenges of these types of projects is the perceived higher-than-normal upfront costs. However, as the cost of technologies such as solar panels, heat pumps, and smart appliances go down, and more developers recognize the long-term value of zero energy buildings, community developments like Tillamook Row will become the norm rather than the exception.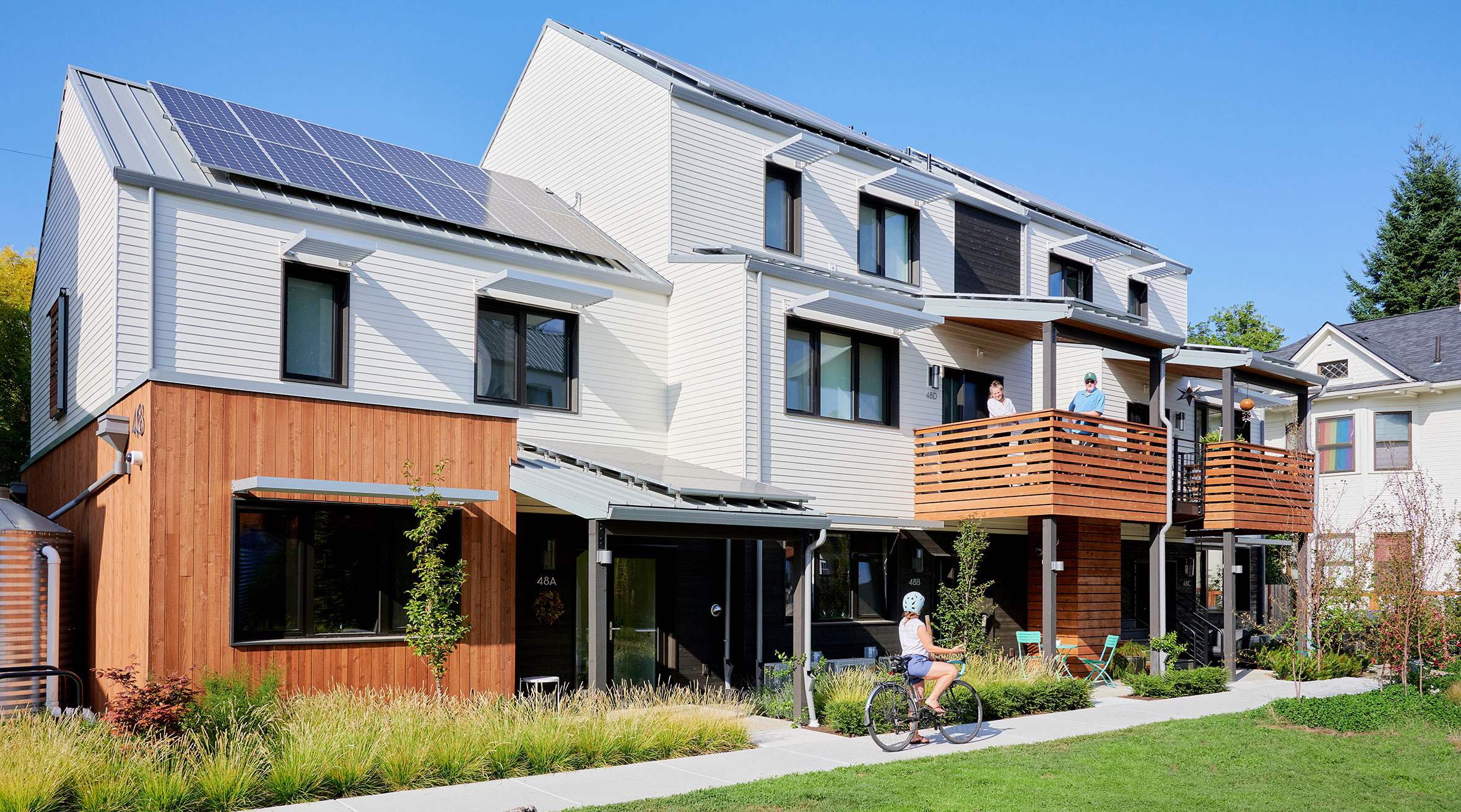 Tillamook Row is situated among single-family residential homes and along North Williams Avenue, an important public transit and bike route. Green Hammer's design build team used observations of neighborhood building forms and typologies as a jumping-off point, the ultimate goal being a multifamily development that is welcoming to the community. In doing so, Green Hammer's approach focused on several key values, such as community connection and resiliency.
The residents of Tillamook Row share a common courtyard and garden space, as well as a small woodshop and gym, allowing for connection on a daily basis. Additionally, health and wellbeing was highly prioritized, in line with Green Hammer's commitment to healthy and inspiring buildings. The heat recovery ventilation systems in Tillamook Row continuously provide fresh filtered air in bedrooms and living spaces while removing contaminants from bathrooms and kitchens.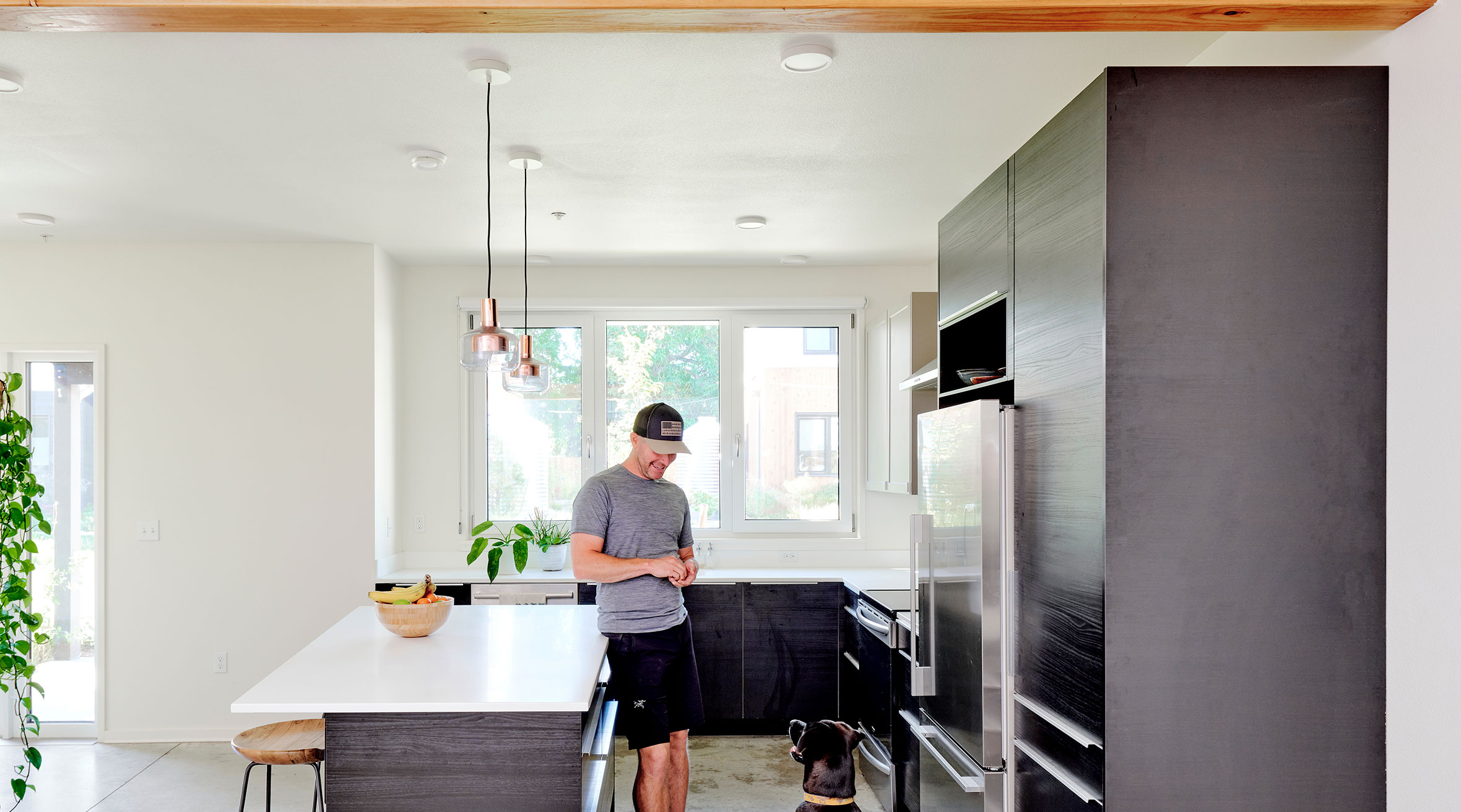 The community's accessibility for residents was another priority. Tillamook Row was designed for residents to stay in the community as they age. There are no-step entrances, wide hallways and doors, and ground floor bedroom suites. The community is within close proximity to public transit, grocers, restaurants and a hospital, making it easier to live a car-free lifestyle.
Education—for residents as well as the local design build community—has been a key component of the project. The common house is equipped with an energy dashboard that tracks electricity usage and solar electricity generation in real time. Air quality monitoring in apartments allow residents to see that indoor air is, on average, at least 30% cleaner than the outdoor air. Tillamook Row has been part of numerous green building tours, with more than 350 people touring the community as part of educational events.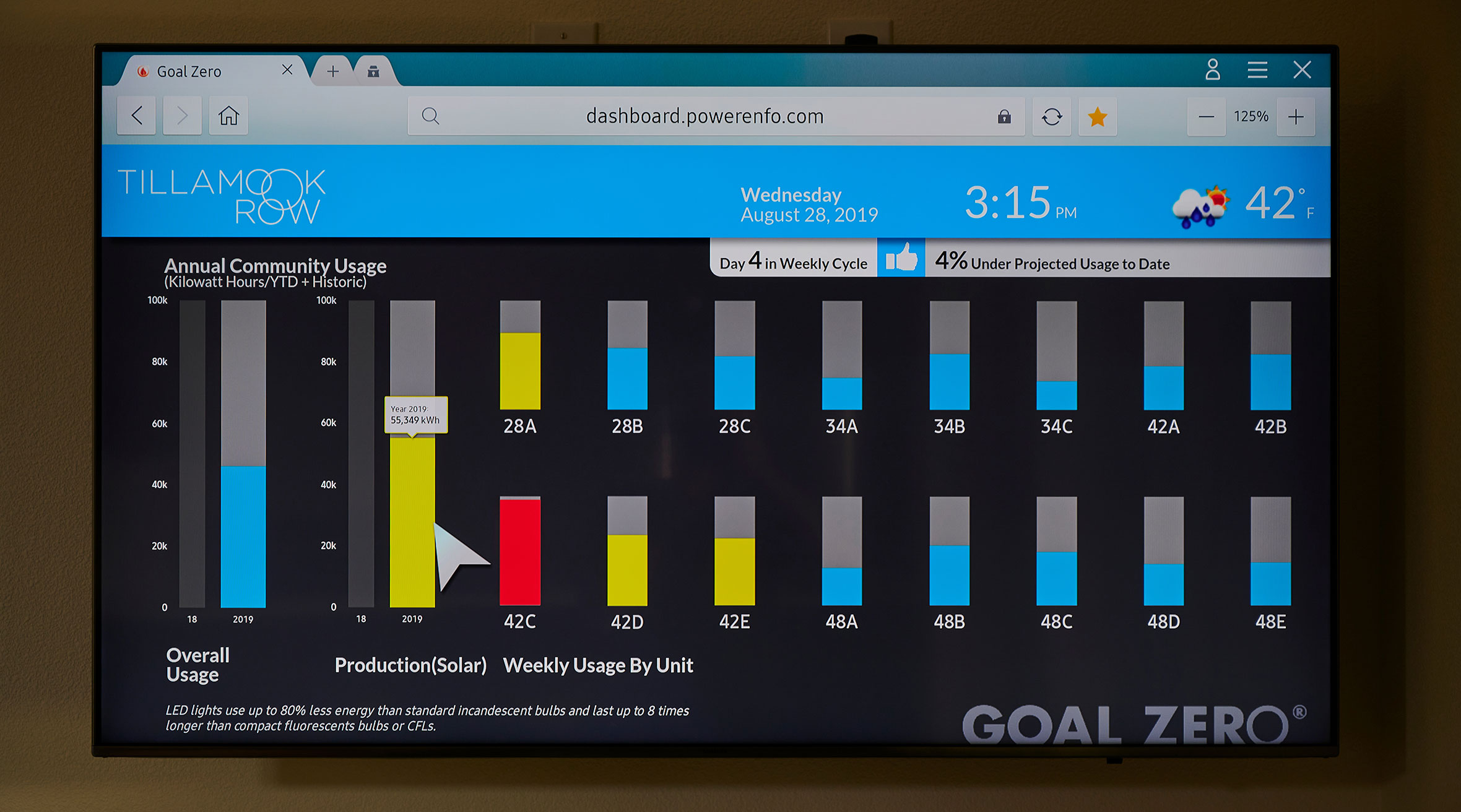 Results
In a bigger-than-expected way, Tillamook Row's shared outdoor spaces have proven to be extremely valuable, both helping to improve residents' quality of life as well as connection to one another. When Covid-19 limited access to the common house, people spent more time outside on their balconies and socially distant socializing in the courtyard. Neighbors offered to help to one another with grocery shopping, dog walking and childcare. Maintaining a strong sense of community during such a difficult time has been a source of relief for the whole community.
Vacancy rates at Tillamook Row have been consistently low and there is currently a waiting list, which speaks to the immense success of the community. Tillamook Row is also meeting its zero energy goal, generating as much electricity as it consumes through its 82-kilowatt solar array.
Awards and Recognition
Tillamook Row has received numerous accolades, including an Honorable Mention in Fast Company's Innovation by Design Awards. Architect Erica Dunn received the Architecture 2030 Award from the American Institute of Architects (AIA) Oregon, Portland Section.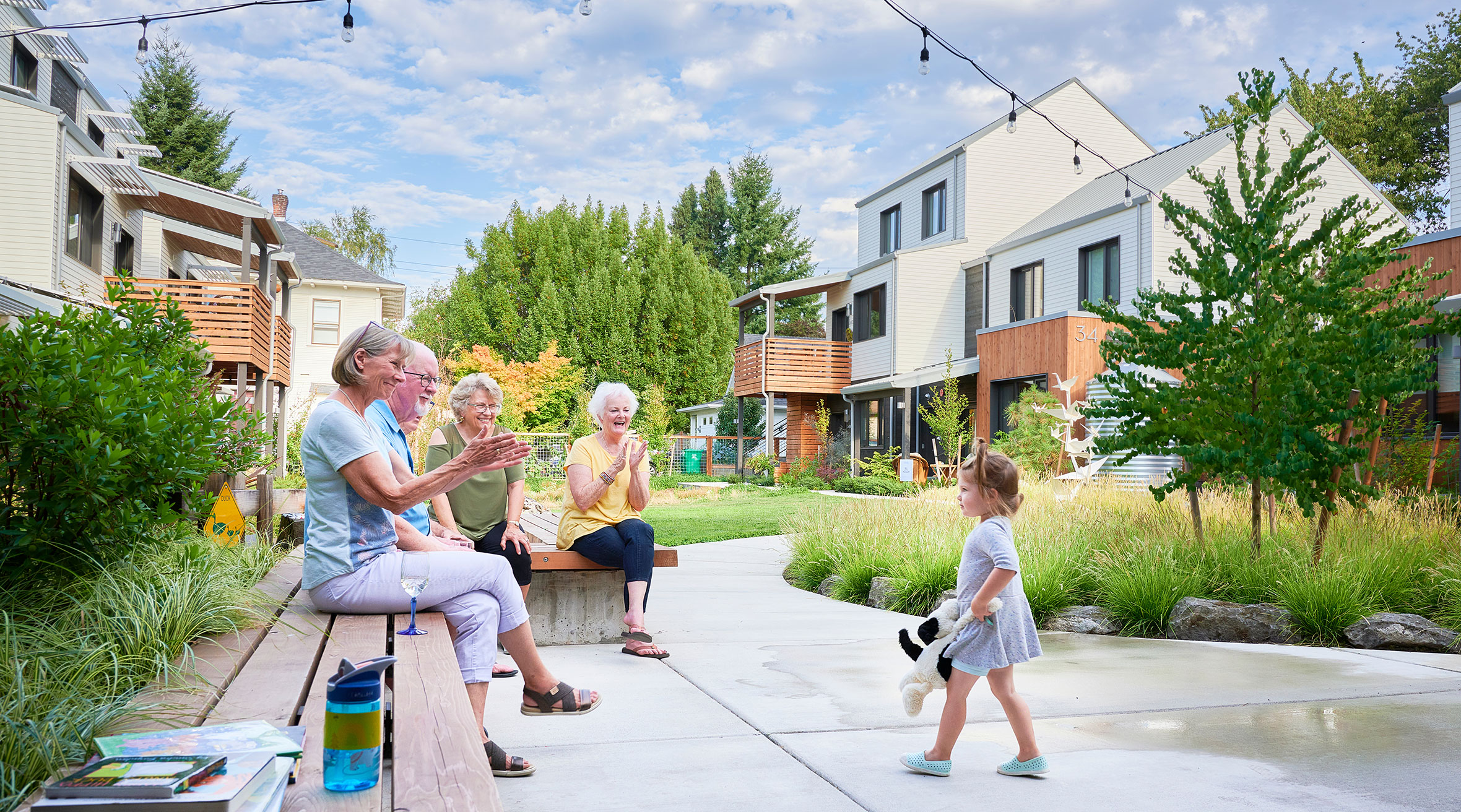 Photos by Bill Purcell Photography
The first zero energy community in Portland serving renters.
Project Partners
Architect: Green Hammer
Interior Design: Dyer Studio
Engineer: Zac Blodgett, The Structural Department
Landscape Architect: Michael Moyers, Medium Landscape Architecture
Zero Energy Certification: International Living Future Institute
< Previous Case Study
Next Case Study >