Blog
Grand Opening of The Oaks Zero Energy Neighborhood at Rose Villa
2.13.19
Thanks to all those who joined us yesterday for the grand opening of The Oaks Zero Energy Neighborhood at Rose Villa — the first development in the Portland senior living marketplace designed to meet its own energy needs through a combination of ultra-energy-efficient design and on-site renewable energy generation.
We're so glad the weather cooperated so we could step back to celebrate all the hard work of the numerous partners and sub-contractors who worked with our design-build team to make the project a reality. Most importantly, thanks to Rose Villa for being so committed to zero energy construction and for being so fun to work with!
The Oaks is a neighborhood within Rose Villa, a cottage community for senior living set on 22 acres along the Willamette River, designed and built by Green Hammer. The 12 Zero Energy craftsman-style homes are built to meet Passive House principles that support health and energy efficiency. Residents will likely have low-to-no energy costs while enjoying comfortable, quiet homes with fresh, filtered air.
"Rose Villa is committed to creating a robust community with many opportunities for residents to live their social and environmental values," says Vassar Byrd, CEO of Rose Villa. "We've created an independent and welcoming culture that embraces and celebrates diversity. For eco-minded individuals, The Oaks stands out as a unique and innovative approach to sustainable living."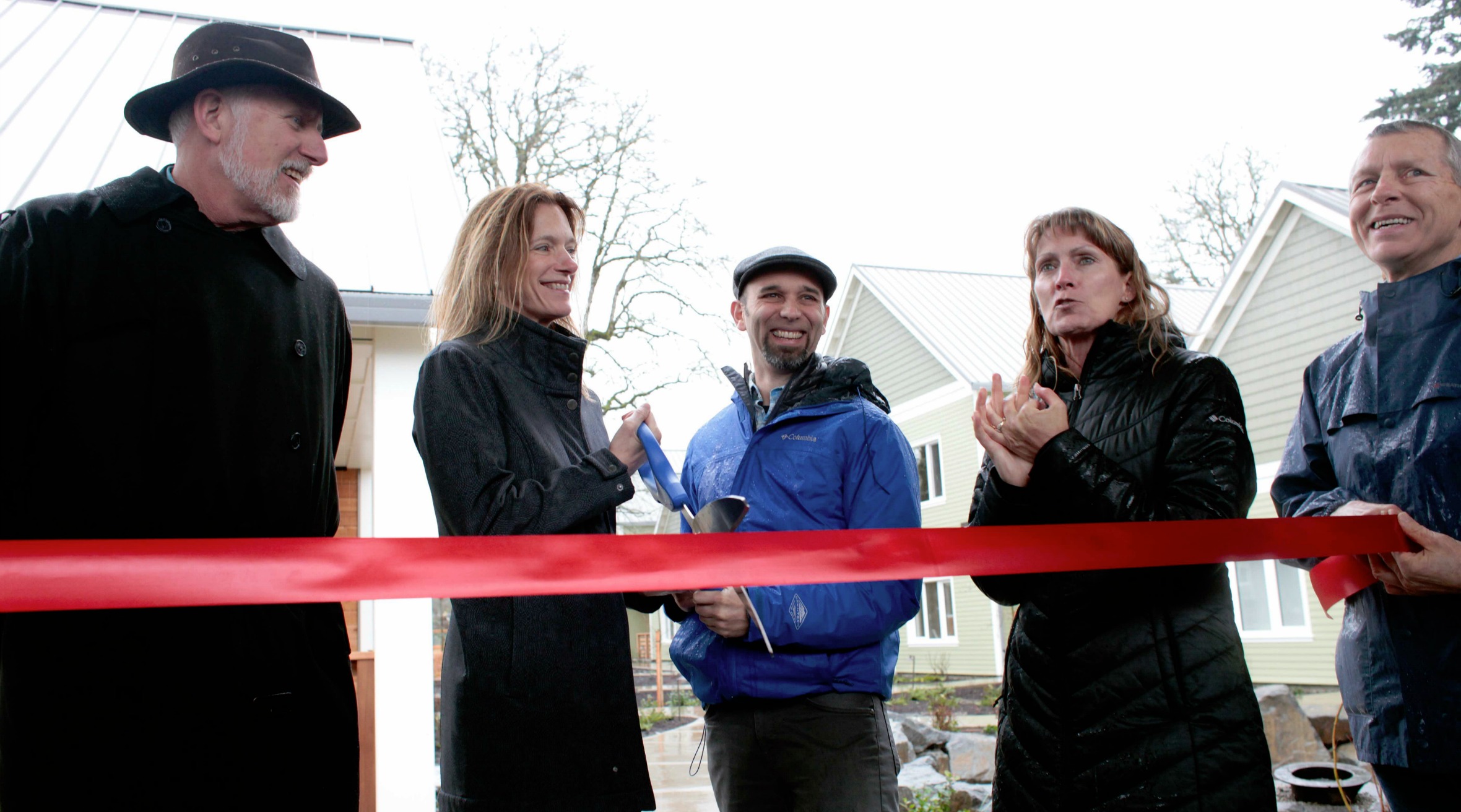 Milwaukie City Mayor Mark Gamba, Rose Villa CEO, Vassar Byrd, Green Hammer CEO, Stephen Aiguier, North Clackamas Chamber of Commerce CEO Laura Edmonds, North Clackamas Chamber Ambassador Gary Stalick prepare to cut the ribbon at The Oaks Zero Energy Community grand opening.
In 2016, Rose Villa completed a $60 million campus redevelopment, including 75 new homes and "Main Street"—a village center with restaurants, a garden store, a rooftop deck, a spa and more. The residences within The Oaks—each about 1,200 square feet—are organized as triplexes clustered around a central courtyard. The project, which commenced construction in December of 2017, sold out prior to build-out—a testament to the demand for sustainable senior living options in the market.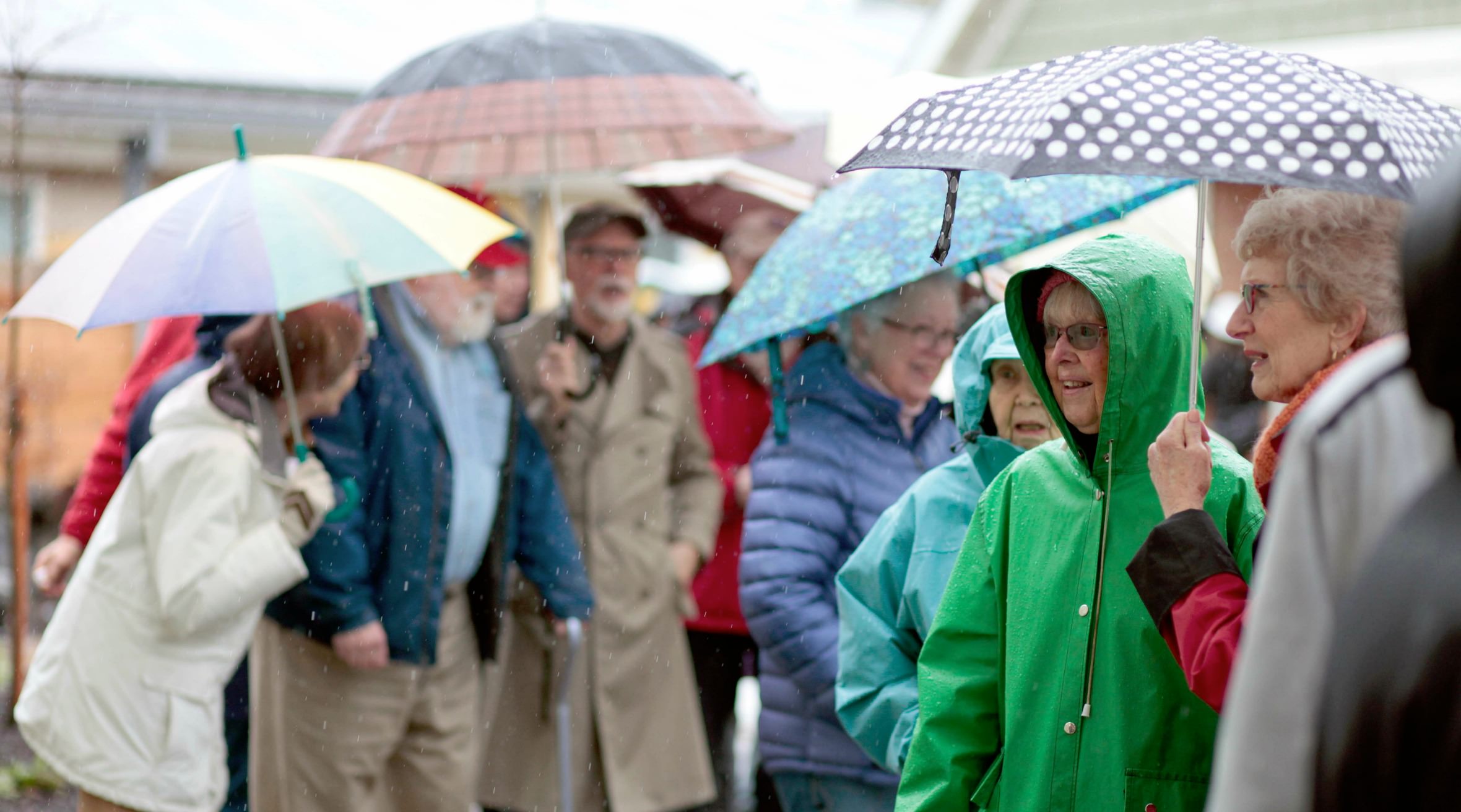 Future residents of The Oaks Zero Energy Neighborhood and Rose Villa's other neighborhoods brave the elements to tour the newly completed development together.
"Neighborhoods like The Oaks are proving that Zero Energy homes are entirely possible today," says Stephen Aiguier, Green Hammer Design Build founder and president. The firm is just one of 10 in the nation meeting the goals of the American Institute of Architects' (AIA) 2030 Commitment, a voluntary path toward carbon neutrality in the built environment. With mounting evidence showing that governments must act with greater urgency to address global warming, initiatives such as the 2030 Commitment show that the building industry must and can be part of the solution.
With the completion of The Oaks, Rose Villa is preparing for its third and final redevelopment project in 2020, culminating in the construction of a next-generation 24-hour long-term-care neighborhood along with more independent-living homes and a second Zero Energy housing project in partnership with Green Hammer.
Go here to read media coverage of The Oaks.
Photos by Green Hammer project engineer, Kevin Nortz